Welcome! I write historical and contemporary fiction that emphasizes warm and well-drawn characters against a background of world events and compelling settings. My popular Northminster Mystery series follows Major Giles Vernon and Dr Felix Carswell as they solve murders in a crime-infested early Victorian English city.

I co-founded Anthemion Software, a small company creating software for software developers and writers, including the Jutoh e-book editor, and the Writer's Café creativity toolkit.

You can buy my books on Amazon.

I hope you enjoy my site, and more importantly, my books!
---
My latest book in the Northminster series is now available from Amazon.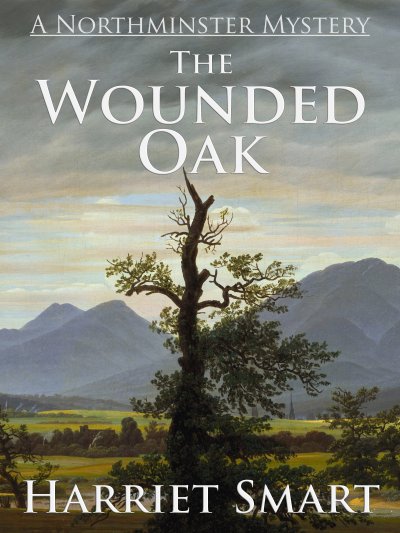 The Wounded Oak: Northminster Mystery 11
When walking in his gardens on a glorious spring morning, the debonair Rector of Swalecliffe, John Ravenell, is shot and almost killed by a hidden rifleman. This extraordinary event calls Major Giles Vernon and Felix Carswell to pursue another dangerous and complicated investigation, this time in the idyllic seaside town of Swalecliffe.
Ravenell survives the attack due to Carswell's skill as a surgeon, but the identity of the rifleman remains elusive, as does the nature of the weapon he used. Astonishing in its range and accuracy, it becomes an urgent matter to find the gun and its owner. Who in sleepy Swalecliffe might harbour such a dangerous weapon and have the desire to use it in earnest?
Meanwhile, Lord Rothborough has acquired the nearby Margrave Abbey as a peace offering for his wife, but here in the spectacular grounds, another shocking event throws all thoughts of reconciliation into confusion. For Lady Rothborough is carrying secrets of her own which can only end in tragedy.
Giles has been convalescing at Swalecliffe after pneumonia and the case threatens to damage his precarious health, while Felix is attempting to rebuild his life and create a family for his infant son: he finds himself in the eye of the storm when he rekindles an old friendship high on the windswept moors above Swalecliffe.
The Wounded Oak is the eleventh novel in the engrossing Northminster Mysteries, featuring intrepid early Victorian detectives Vernon and Carswell.
Get it from Amazon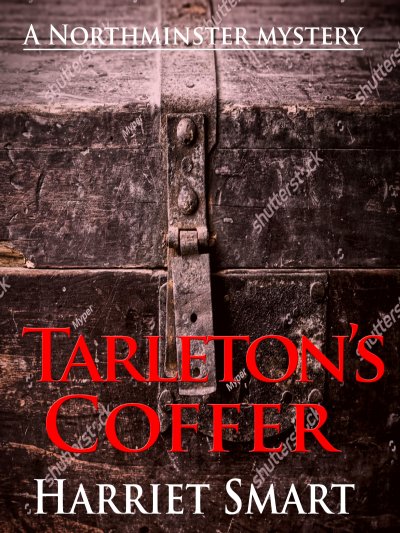 Tarleton's Coffer: Northminster Mystery 10
When Northminster's most prominent bookseller, Arthur Tarleton, is found crushed under a marble column in his extraordinary library, Major Giles Vernon and Felix Carswell are called to investigate.
Their chief suspect is Tarleton's adopted son, but he vanished three years ago. The discovery of a stash of valuable books, stolen from other libraries, only makes the affair more puzzling. Did Tarleton's passion for collecting rare titles lead to his downfall?
Matters are complicated by the curious behaviour of heiress, Serena Wyvern, who has spurned her fiancé, Colonel Ashcombe, and has alarmed her family with her change in character. When another respectable young woman steals a baby, Giles and Felix discover that a malign movement is at work in the heart of Northminster society, one that threatens to end in a terrible tragedy.
As he grapples with these intricate affairs, Giles faces a personal battle: to retain custody of his niece and nephews when their father returns to claim them. Meanwhile, Felix is thrown into torment in the aftermath of the birth of his child, when fate deals the bitterest blow of all.
Set in a bleak Adventide of 1842, Tarleton's Coffer is the tenth Northminster Mystery featuring intrepid early-Victorian detectives, Major Giles Vernon and Felix Carswell.
Get it from Amazon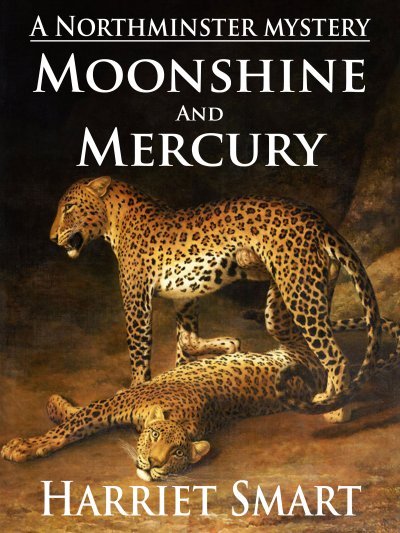 MOONSHINE AND MERCURY
Northminster Series Book 9
In the summer of 1842, the spa town of Stanegate is booming, thanks to the vision of Captain Carrington, the enterprising proprietor of the Hydropathic Institute.

Fashionable visitors can take the latest cures, luxuriate in the opulent Roman Baths and buy all the newest frivolities from the glamorous shops in the Parade before an evening's entertainment at the newly built Opera House.

But when the remains of a man are discovered in an animal cage at Askham's Menagerie, the darkness under the glittering surface of the town is exposed. It is the task of Major Giles Vernon and Felix Carswell to determine who he is and how he came to such a terrible end.

Was he killed by Moonshine and Mercury, a pair of beautiful and celebrated leopards, or is there something far more sinister at work in the resort? When a disaffected French chef commits suicide in the arms of his employer, Madame Jacquot - the alluring manager of The White Hart Hotel - it seems so.

As they hunt for the killer, Giles and Felix must cut through a dangerous tangle of bewildering clues, encountering old friends and new enemies, before the truth is finally laid bare.

Moonshine and Mercury is the ninth compelling Northminster Mystery by Harriet Smart.

What readers say: "Another great book in the series of these two sleuths!! Could not put it down! Harriet Smart is an amazing writer!"
"I absolutely love this author. I sincerely hope she writes more Northminster books. The characters are wonderful and it has been a sheer delight to read them in sequence."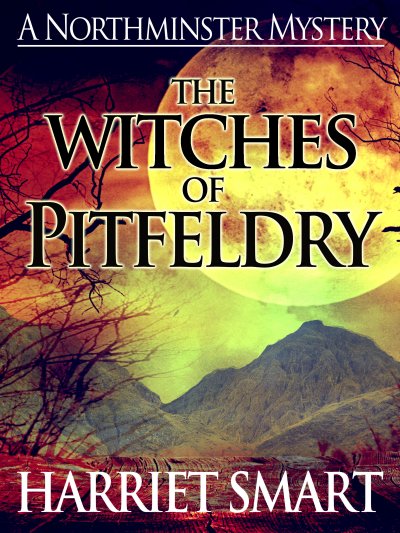 THE WITCHES OF PITFELDRY
Northminster Series Book 8
In the spring of 1842, Felix Carswell and Major Giles Vernon arrive in the picturesque village of Pitfeldry in the Scottish Highlands with their families, expecting a well-deserved holiday. But it is not long before they are forced back to work when a local woman is found lying dead on a lonely hillside. The victim is a respected member of the tight-knit community and the identity of her killer is a mystery. At the same time, Felix is confronted with a disturbed young girl who claims that she is being possessed by the Devil, and her younger sisters begin to display the same symptoms.

Carswell's adopted father, the Rector of Pitfeldry, is fearful that something unearthly is unfolding in the usually tranquil and remote glen, echoing a witch-hunt two hundred years earlier that claimed the lives of twenty women. It is up to Giles and Felix to find the truth of the matter, as a succession of puzzling and shocking events come frighteningly close to home.
---
© Harriet Smart 2019
"Smart's characters have a feel of authentic life and move in and out of a backdrop which cunningly incorporates political change, trade union rebellion, suffragette noise and good food"
Philippa Gregory writing in
The Sunday Times
---
"I have just finished book #6 of this series. First of all, may I hope that there will be a 7th, 8th & beyond!?? To say that I love this series would be an understatement. The writing is so sublime, I feel as if I have lived, visited and of course, know everyone personally! Thank you, thank you for bringing me into this world of mystery, love and intrique."
Amazon review
---
"Fast moving story. Does deal with sensitive subjects but does so carefully. Well developed characters with complex backgrounds and personalities."
Amazon review
---
"Very enjoyable read. Really well written, it made me stay up much later than I intended on more than one night. If you're looking for a good historical mystery, I highly recommend it."
Amazon review
---
"The Butchered Man fairly crackles with narrative tension on every level. The characters are intriguing and complex. I'm going directly to the next in the series."
Amazon review
---
"Very intriguing plot. Riveted from beginning to end. The characters were easy to follow yet definitely not to simple. Thank you for an excellent and thoroughly entertaining story."
Amazon review
---
"Nicely written. Good plot and nice character development. I enjoyed the period writing so much. It flowed well and made the story even more interesting."
Amazon review
---
"The Butchered Man is a great read. Terrific mystery. Lots of twists and turns. One of the best I've read. Well developed characters, I found the book delightful."
Amazon review
---
"A very good mystery! I usually can parse out who the perpetrator is, or a darn good guess. But this one had me fooled! I especially liked the use of the verbiage of the times. It lingered in my mind."
Amazon review
---
"An excellent choice for mystery lovers. Add together an atypical historical setting that gives the author scope for solving mysteries in unusual ways, compelling characters with fascinating back stories, and excellent plotting with a depth that promises equally intriguing stories to come, and what you have is a first book of a series that promises to offer many hours of reading pleasure."
Amazon review
---
"Authentic, enjoyable and interesting. What more can I say. I really liked this book. It was a great way to relax after a hard day, the TV stayed off."
Amazon review
---
"Good old-fashioned detecting. What a breath of fresh air this novel is, with its back to basics detective work, through necessity rather than design. In the 1840s forensic medicine was in its earliest infancy so detectives had to unpick and unravel a crime scene, working blindly in many cases through lack for forensic eyesight. The story of the butchered man takes us beyond forensics and into the murky world of love and relationships - jealousy, hatred, money and sex. It's all in there, in an era when the right people expected to be taken at their word making it even trickier to get to the truth. An excellent read, well-written and enjoyable, with fascinating characters and interesting interpersonal relationships, if you like a good murder and dedicated detectives, you'll love this book."
Amazon review
---