Welcome! I write historical and contemporary fiction that emphasizes warm and well-drawn characters against a background of world events and compelling settings. My popular Northminster Mystery series follows Major Giles Vernon and Dr Felix Carswell as they solve murders in a crime-infested early Victorian English city.

I co-founded Anthemion Software, a small company creating software for software developers and writers, including the Jutoh e-book editor, and the Writer's Café creativity toolkit.

You can buy my books on Amazon.

I hope you enjoy my site, and more importantly, my books!
---
My latest book in the Northminster series is now available from Amazon.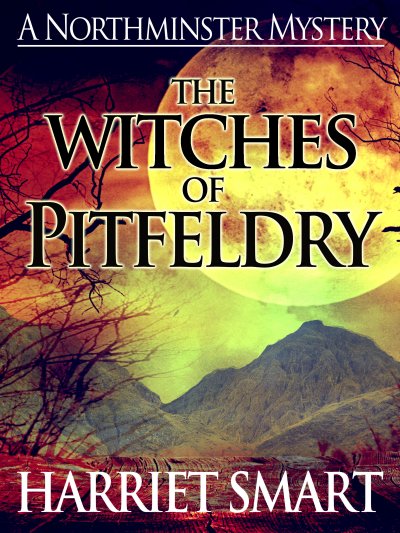 THE WITCHES OF PITFELDRY
Northminster Series Book 8
In the spring of 1842, Felix Carswell and Major Giles Vernon arrive in the picturesque village of Pitfeldry in the Scottish Highlands with their families, expecting a well-deserved holiday. But it is not long before they are forced back to work when a local woman is found lying dead on a lonely hillside. The victim is a respected member of the tight-knit community and the identity of her killer is a mystery. At the same time, Felix is confronted with a disturbed young girl who claims that she is being possessed by the Devil, and her younger sisters begin to display the same symptoms.

Carswell's adopted father, the Rector of Pitfeldry, is fearful that something unearthly is unfolding in the usually tranquil and remote glen, echoing a witch-hunt two hundred years earlier that claimed the lives of twenty women. It is up to Giles and Felix to find the truth of the matter, as a succession of puzzling and shocking events come frighteningly close to home.
---
© Harriet Smart 2019
"Smart's characters have a feel of authentic life and move in and out of a backdrop which cunningly incorporates political change, trade union rebellion, suffragette noise and good food"
Philippa Gregory writing in
The Sunday Times
---
"I have just finished book #6 of this series. First of all, may I hope that there will be a 7th, 8th & beyond!?? To say that I love this series would be an understatement. The writing is so sublime, I feel as if I have lived, visited and of course, know everyone personally! Thank you, thank you for bringing me into this world of mystery, love and intrique."
Amazon review
---
"Fast moving story. Does deal with sensitive subjects but does so carefully. Well developed characters with complex backgrounds and personalities."
Amazon review
---
"Very enjoyable read. Really well written, it made me stay up much later than I intended on more than one night. If you're looking for a good historical mystery, I highly recommend it."
Amazon review
---
"The Butchered Man fairly crackles with narrative tension on every level. The characters are intriguing and complex. I'm going directly to the next in the series."
Amazon review
---
"Very intriguing plot. Riveted from beginning to end. The characters were easy to follow yet definitely not to simple. Thank you for an excellent and thoroughly entertaining story."
Amazon review
---
"Nicely written. Good plot and nice character development. I enjoyed the period writing so much. It flowed well and made the story even more interesting."
Amazon review
---
"The Butchered Man is a great read. Terrific mystery. Lots of twists and turns. One of the best I've read. Well developed characters, I found the book delightful."
Amazon review
---
"A very good mystery! I usually can parse out who the perpetrator is, or a darn good guess. But this one had me fooled! I especially liked the use of the verbiage of the times. It lingered in my mind."
Amazon review
---
"An excellent choice for mystery lovers. Add together an atypical historical setting that gives the author scope for solving mysteries in unusual ways, compelling characters with fascinating back stories, and excellent plotting with a depth that promises equally intriguing stories to come, and what you have is a first book of a series that promises to offer many hours of reading pleasure."
Amazon review
---
"Authentic, enjoyable and interesting. What more can I say. I really liked this book. It was a great way to relax after a hard day, the TV stayed off."
Amazon review
---
"Good old-fashioned detecting. What a breath of fresh air this novel is, with its back to basics detective work, through necessity rather than design. In the 1840s forensic medicine was in its earliest infancy so detectives had to unpick and unravel a crime scene, working blindly in many cases through lack for forensic eyesight. The story of the butchered man takes us beyond forensics and into the murky world of love and relationships - jealousy, hatred, money and sex. It's all in there, in an era when the right people expected to be taken at their word making it even trickier to get to the truth. An excellent read, well-written and enjoyable, with fascinating characters and interesting interpersonal relationships, if you like a good murder and dedicated detectives, you'll love this book."
Amazon review
---