Welcome! I write historical and contemporary fiction that emphasizes warm and well-drawn characters against a background of world events and compelling settings. My popular Northminster Mystery series follows Major Giles Vernon and Dr Felix Carswell as they solve murders in a crime-infested early Victorian English city.

I co-founded Anthemion Software, a small company creating software for software developers and writers, including the Jutoh e-book editor, and the Writer's Café creativity toolkit.

You can buy my books on Amazon.

I hope you enjoy my site, and more importantly, my books!
---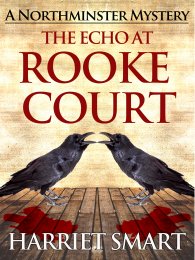 THE ECHO AT ROOKE COURT
Northminster Series Book 6
Felix Carswell returns from his blissful wedding journey and is at once called to the bedside of a young man fighting for his life. Fred Pierce has been seriously injured rescuing the occupants of a house from a fire, and Major Giles Vernon suspects the fire was not an accident. When Fred Pierce loses his struggle to live, having uttered a mysterious message on his deathbed, the search for an elusive arsonist begins. Could there be a connection with a recent fire at a cotton warehouse, or is there something amiss at the bank where Fred Pierce was a diligent employee?

Major Vernon has been house-hunting with his fiancée Emma Maitland, and the couple have agreed to rent an ancient but beautiful house in the Minster Precincts, Rooke Court. Their new landlord is Sir Morten Hurrell, owner of a magnificent country estate at Hurrell Place. But they soon find that all is not well with the Hurrell family when the heir Arthur Hurrell is found dead in highly suspicious circumstances. Vernon and Carswell find they have another challenging investigation on their hands.

A scandalous anonymous novel, a potential bank collapse and the acrimonious affairs between the Hurrell family and their neighbours the Wyttons only add to the complexity of the case. Felix finds the struggle threatens to break the still fragile bonds he has formed with his young wife, while Giles faces dismissal and the possible end to his marital hopes; it will require all their ingenuity and courage to find the answers they need.

From the opulent luxury of country estates to the shocking realities of a fever hospital and the extraordinary secrets offered up by an old house, The Echo at Rooke Court is the sixth enthralling Northminster Mystery featuring Major Giles Vernon and Felix Carswell.
---
© Harriet Smart 2018
"Smart's characters have a feel of authentic life and move in and out of a backdrop which cunningly incorporates political change, trade union rebellion, suffragette noise and good food"
Philippa Gregory writing in
The Sunday Times
---
"I have just finished book #6 of this series. First of all, may I hope that there will be a 7th, 8th & beyond!?? To say that I love this series would be an understatement. The writing is so sublime, I feel as if I have lived, visited and of course, know everyone personally! Thank you, thank you for bringing me into this world of mystery, love and intrique."
Amazon review
---
"Fast moving story. Does deal with sensitive subjects but does so carefully. Well developed characters with complex backgrounds and personalities."
Amazon review
---
"Very enjoyable read. Really well written, it made me stay up much later than I intended on more than one night. If you're looking for a good historical mystery, I highly recommend it."
Amazon review
---
"The Butchered Man fairly crackles with narrative tension on every level. The characters are intriguing and complex. I'm going directly to the next in the series."
Amazon review
---
"Very intriguing plot. Riveted from beginning to end. The characters were easy to follow yet definitely not to simple. Thank you for an excellent and thoroughly entertaining story."
Amazon review
---
"Nicely written. Good plot and nice character development. I enjoyed the period writing so much. It flowed well and made the story even more interesting."
Amazon review
---
"The Butchered Man is a great read. Terrific mystery. Lots of twists and turns. One of the best I've read. Well developed characters, I found the book delightful."
Amazon review
---
"A very good mystery! I usually can parse out who the perpetrator is, or a darn good guess. But this one had me fooled! I especially liked the use of the verbiage of the times. It lingered in my mind."
Amazon review
---
"An excellent choice for mystery lovers. Add together an atypical historical setting that gives the author scope for solving mysteries in unusual ways, compelling characters with fascinating back stories, and excellent plotting with a depth that promises equally intriguing stories to come, and what you have is a first book of a series that promises to offer many hours of reading pleasure."
Amazon review
---
"Authentic, enjoyable and interesting. What more can I say. I really liked this book. It was a great way to relax after a hard day, the TV stayed off."
Amazon review
---
"Good old-fashioned detecting. What a breath of fresh air this novel is, with its back to basics detective work, through necessity rather than design. In the 1840s forensic medicine was in its earliest infancy so detectives had to unpick and unravel a crime scene, working blindly in many cases through lack for forensic eyesight. The story of the butchered man takes us beyond forensics and into the murky world of love and relationships - jealousy, hatred, money and sex. It's all in there, in an era when the right people expected to be taken at their word making it even trickier to get to the truth. An excellent read, well-written and enjoyable, with fascinating characters and interesting interpersonal relationships, if you like a good murder and dedicated detectives, you'll love this book."
Amazon review
---